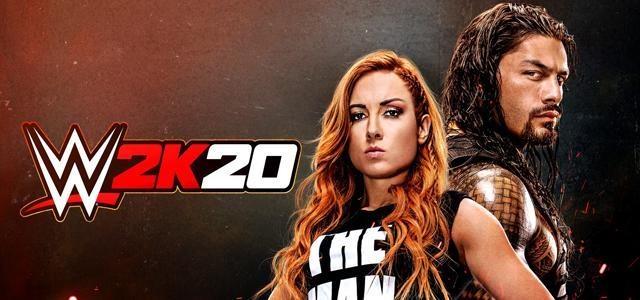 No decorrer da semana, duas novas entradas do WWE 2K20 foram divulgadas, são elas a de Kevin Owens e a de Aleister Black. Ambas entradas mostram novas animações para o Superstars. Confira-as abaixo na seção "Mídias".
Comente abaixo quais são suas expectativas para o próximo lançamento da série WWE Games.
WWE 2K20 será o 21° jogo da série WWE Games, o sétimo da série WWE 2K, e sucessor do WWE 2K19.
PROMOÇÃO / SÉRIE:
WWE Games
LANÇAMENTO: 22 de outubro, 2019
PLATAFORMAS:

PC Windows

PlayStation 4

Xbox One
PUBLICADOR: 2K Sports
DESENVOLVEDOR: Yuke's / Visual Concepts
SCREENSHOTS
GAMEPLAYS/VÍDEOS
Raw: AJ Styles, Alexa Bliss, Alicia Fox, Becky Lynch, Braun Strowman, Bray Wyatt, "The Fiend" Bray Wyatt (DLC/Pré-venda), Brie Bella, Brock Lesnar, Dana Brooke, Drew McIntyre, Naomi, Natalya, Nia Jax, Nikki Bella, Nikki Cross, Rey Mysterio, Ronda Rousey, Samoa Joe, Sasha Banks, Seth Rollins e The Miz
SmackDown: Aleister Black, Asuka, Bayley, Big Show, Buddy Murphy, Carmella, Charlotte Flair, Daniel Bryan, Finn Bálor, Kane, Kevin Owens, Mandy Rose, Mickie James, Paige, Randy Orton, Roman Reigns, Rusev, Sheamus e Xavier Woods
NXT: Angelo Dawkins, Johnny Gargano, Montez Ford e Velveteen Dream
205 Live: EM BREVE
Legends & Retro: Andre the Giant, Big Boss Man, Bret Hart, Brutus Beefcake, Chyna (DLC/Deluxe), Dusty Rhodes, Eddie Guerrero, Edge, Hulk Hogan (DLC/Deluxe), John Cena, King Booker, Kurt Angle, Mankind (DLC/Deluxe), Papa Shango, Randy Savage, Ric Flair, Rowdy Roddy Piper, Shawn Michaels, Steve Austin, Sting, The Rock Retro (DLC/Deluxe), Triple H, Ultimate Warrior e Undertaker
Originals: Aleister Black "Wicked", Bray Wyatt "The Swampfather", Finn Bálor "Demon King", FrankenStrowman, Mandy Rose "Survivor", Nikki Cross "Twisted", Randy Orton "Apex Predator" e Sheamus "Fed-Up"

NPC: Byron Saxton (Comentarista), Corey Graves (Comentarista), Greg Hamilton (Ring announcer), Michael Cole (Comentarista) e Paul Heyman (Manager)
Continue de olho no HOW para mais detalhes do WWE 2K20.